Does anybody have a small scope base block in their "bits" box that you are able to sell?
I recently bought an old Remington Rangemaster Model 37, and the condition is amazing for a rifle that must be at least 60 years old, but when I took it to the club to zero the scope, I ran out of windage adjustment.
It turned out to be the rear base block. It has been shortened lengthwise, which isn't a problem, but the width has also been reduced fractionally, and that is causing the rear mount to throw the scope off line.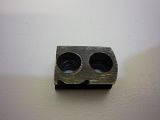 The dimensions are as follows:-
Height ------- -- Width ----------- Hole spacing
Front .262mm/1/4" --- 11.72mm/461" --- 14.28mm/.560-562"
Rear .262mm/1/4" --- 11.72mm/461" --- 7.94mm/.312"
It is really only the rear block that I need, but if you have a pair that you can sell that would be great.